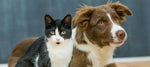 tips
10 Tips To Prepare Cats And Dogs This Hurricane Season
In recent months, pet owners all across the country have unfortunately had to face natural disasters. From hurricanes to floods to fires, keeping your pet safe adds an extra level of stress to an already difficult situation.
When it comes to pet hurricane preparedness, the first question facing most families is generally whether or not to evacuate and, if evacuation is an option, whether it's best to travel by car or plane with a pet. Both choices come with extra headaches, such as finding out an airline's rules and restrictions or making sure there's a pet-friendly hotel with availability on the road. You should make these calls as soon as possible so that you can get the reservations you need for your pet.
Whether you're staying put or traveling, there are some basic items you can plan for in advance of a storm or disaster:
Food
– Make sure you have enough pet food to last you several weeks.
Leashes/Collars/ID Tags/Microchips
– Be sure to have at least two leashes on hand, and make sure your pet's collar is on correctly and has his or her name and your contact number on a tag. If your pet has a microchip, confirm that all of the information is accurate in case you are accidentally separated. It's also a good idea to carry a photo of your pet in case he or she gets lost.
Medicine
– If your pet regularly takes any medicine, have extra on hand in case you can't get to the store or vet for a prolonged period of time.
Calming Supplements
– If your pet is likely to get nervous in a hurricane or other disaster, speak to your vet in advance about ways to calm him or her. Your vet may prescribe medicine or recommend items you can buy to soothe your pet. Nootie.com has a line of Soft Chew Supplements including a calming supplement.
Bathroom Options
– If you have a cat, this may be as simple as making sure you have extra litter on hand or taking your litter box if you evacuate. If you own a dog and your dog won't be able to go outside, you might want to buy pads for your home or "portable" grass options that are sold online and can be placed in your house or garage. Some people get creative and buy sod and line a kiddie pool with it. Also have extra cleaning supplies and plastic bags on hand to clean up accidents.
Toys or distractions
– If your pet is the kind to get completely distracted by a new toy for hours, you may want to buy a few to put away for the worst part of a storm. Also, if your pet has a favorite toy, keep it nearby to calm him or her.
Motion Sickness
– If you plan to fly or drive with your pet, talk to your vet about how you would treat potential motion sickness.
Carriers/Harnesses
– If you are flying with your dog or cat, make sure you have the right type of carrier. If you plan to drive with your pet, plan in advance for how he or she can sit safely in your car. There are a variety of options, from carriers to harnesses to gates.
Water
– Whether you are staying home or traveling, make sure you will have enough fresh water for your pet. In a hurricane, it's possible to lose your power and water for days to weeks, so when you are stocking up on bottled water, make sure you buy enough for your pet too.
Evacuation Shelters
– If you are considering this option, keep in mind that most cities will offer pet-friendly shelters. However, some of these shelters may fill up early, so call around and see if you can make a reservation.
Preparing for any kind of storm or natural disaster isn't easy. With pets, there are just a few extra steps you need to take to make sure every member of your family, including the four-legged, is safe. Making plans in advance is a great way to save yourself aggravation and stress down the road. Have any pet hurricane preparedness tips you'd like to share? Leave a comment below!
Choosing a selection results in a full page refresh.
Press the space key then arrow keys to make a selection.