Our Story
It all started with a purpose - to help our dogs and other pets thrive.
It's ironic that...
I never really wanted a pet. I just wasn't ready to take on the responsibility. As a young, newly married couple, I had pictured us being carefree, traveling, and out on the town. The reality...we came home every night after work to an empty apartment, ate dinner, watched TV, and went to bed.
When my wife, Jen, made me go to an event at a pet store, that's when I met Ellie Rae. She was a tiny Boston Terrier with an enormous head and big ears. It was love at first sight. That's right, she became my dog; our first baby. Our life changed with Ellie. Dinners downtown or weekend trips were planned around "dog-friendly" places.
How Nootie Began...
As new pet parents, a friend gave us some pet shampoo to try. It worked amazingly well, but it didn't smell great and was only available through veterinarians. A light bulb went off. Shouldn't people be able to buy their own everyday dermatology products for pets with fragrances people love and buy for themselves? We met with the formulator to make the same quality products found at the vet with popular fragrances, and that is how our grooming products line, Nootie, began. From there, we continued to grow our products with one simple goal in mind: make products that help pets thrive.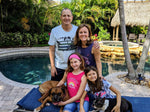 Introducing KOHA...
As Ellie got older, she started developing food sensitivities and was having allergic reactions to her food and suffered from digestive issue.
As many pet parents do, we constantly searched and tried many different types of foods to solve her issues. We began to understand from our own experience with food and skin allergies that the two key components to keeping our dogs healthy and happy were good nutrition and good skin & coat care. We were in the skin and coat business with dermatology products and felt it was time to explore the nutrition aspect of the equation.
After much research and trial and error with different foods, we realized two things: Ellie needed clean proteins with no unnecessary fillers, and she couldn't digest her kibble properly. We saw an opportunity to create "minimal ingredient" pet food. Why feed your pet ingredients they don't need? We decided to leave out any ingredients possible unless it was absolutely necessary to have them. This allowed us to create a solution for other pet parents like us to create a prepared food that was as close to a home-cooked meal as possible.  That is how KOHA Minimal Ingredient Pet Food was born. Today, Ellie is a thriving 13-year old that jumps for joy at meal time.
Every time we get a letter from a pet parent thanking us for helping their pet, it re-confirms that all of our hard work to start our business from nothing has all been worth it. It has been our goal from the beginning to create products that help pets thrive and live the best lives we can provide. We've always felt family comes first, whether they have two legs or four.
We wish you and your pets health & happiness,

Lonnie & Jennifer Schwimmer
Choosing a selection results in a full page refresh.
Press the space key then arrow keys to make a selection.