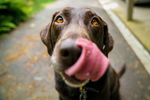 9+ Best Dog Food for IBS: What to Feed Dogs with Irritable Bowel Syndrome [2023]
Just like humans, dogs can suffer from health conditions like irritable bowel syndrome (IBS), causing abdominal pain, inflammation, and other unpleasant symptoms. 
IBS in dogs is often associated with intolerance to certain foods, food allergies and sensitivities, and even conditions like pancreatitis. It's no wonder so many pet owners are searching to find the very best dog food for IBS. 
Unfortunately, many dog foods contain artificial preservatives and allergens which can exacerbate IBS symptoms in dogs. But have no fear! This review of the best dog food for IBS will provide you with several options for your pup. 
What is IBS in Dogs? 
Irritable bowel syndrome is a medical condition where a dog's intestinal muscles don't work as usual, leaving them suffering from bouts of constipation and diarrhea. Since there aren't any tests available for IBS, IBS in dogs is diagnosed by ruling out other possible diseases. 
IBS vs IBD
The warning signs of IBS and IBD are similar—abdominal pain, diarrhea, and constipation. However, with IBS, the exact cause can't be pinpointed. There's no bacterial or viral infection, and biopsies show no cancers or inflammation. It often happens when the dog is stressed, and symptoms tend to be less frequent and less severe than IBD. 
IBD affects both the small and large intestines and veterinarians can detect the presence of inflammatory cells. Dogs with IBD often lose weight and may feel the need to go to the bathroom more frequently but produce less stool each time. 
Read more here: The Best Food for Dogs with IBD
What Causes IBS In Dogs?
Experts believe IBS in dogs is probably caused by multiple factors. Let's take a look at some of them.  
Intestinal Issues
Dogs with IBS tend to have some problems with their intestinal muscles. Typically, these muscles have a coordinated movement, known as peristalsis, that helps food travel from the mouth to the anus. 
However, with IBS, these muscles either don't work together properly, or they move quicker or slower than they should.  
Food-Related Intolerances or Allergies
Just as some humans struggle with allergies, our four-legged pals can have food woes of their own. 
Food-responsive intolerances essentially means a dog's digestive system is allergic to certain food components, which can exacerbate or cause IBS symptoms in dogs. Additionally, a dog with a low-fiber diet may have constipation, one of the symptoms of IBS, causing straining when passing stool.  
Stress
Just as stress affects humans, it affects dogs as well. Stress, be it from a change in routine, environmental factors, or even loud noises, can play a role in sparking IBS symptoms in dogs. Keeping a keen eye on sudden changes in your dog's environment and providing a consistent, calm atmosphere to help reduce anxiety and lead to a happier gut. 
IBS Symptoms in Dogs 
IBS can be a sneaky culprit behind your furry friend's tummy troubles. From persistent abdominal pain and intestinal discomfort to diarrhea and constipation, the array of symptoms is no walk in the park:  
Diarrhea

Vomiting

Nausea

Constipation

Abdominal pain or discomfort

Bloating

Loss of appetite
They could even develop associated conditions like pancreatitis. If these symptoms sound all too familiar, it's high time for a chat with your trusted veterinarian.  
How to Treat IBS In Dogs: Short-Term & Long-Term
When it comes to the management of IBS symptoms in dogs, a structured plan is highly beneficial. From food choices to lifestyle tweaks, let's dive into the roadmap to giving your dog a happier and healthier life.  
1. Choose the Best Dog Food for IBS
Picking the right food for pups with IBS can transform them. Seek out dog food options with limited ingredients since these reduce the risk of irritating that sensitive stomach. Wet food is great for dogs with IBS, thanks to the higher moisture content that makes it easy to digest and pull nutrients from. 
Consult with your veterinarian to gain insights into customizing your pup's diet to sidestep known allergens.  
2. Reduce Stress
Believe it or not, dogs can be emotional too. From loud noises to abrupt changes in their daily routines, numerous triggers can cause a stomach upset. 
Learn how to calm your dog with anxiety—whether that's in the form of engaging toys or a calming supplement. And hey, a little extra cuddle time never hurt anyone!  
3. Consider Medications
Medications prescribed by your trusted veterinarian can help manage inflammation, address associated conditions like pancreatitis, or even tackle persistent abdominal pain. 
4. Make Routine Adjustments
Dogs thrive on routine. Regular feeding times, consistent walk schedules, and predictable playtimes can offer a sense of security to a pup with IBS. 
It's not just about what goes in the bowl, but how the day unfolds around it. A bit of predictability can go a long way in keeping that tail wagging happily. 
Best Dog Food for IBS
Food plays a huge factor in the symptom flare-ups of a dog with IBS. Here are some of the best dog foods that can help reduce the frequency of these symptoms—if not eliminate them. 
1. KOHA Limited Ingredient Dog Food
KOHA's Limited Ingredient Dog Food is gently formulated to be easily digestible. Each recipe is designed with just one meat source, so it's great for dogs with extreme food sensitivities or stomach issues. 
Plus, it's delicious, so your dog will finally be excited for mealtime again. The limited ingredient dog food recipes include duck, beef, lamb, turkey, salmon, and pork. They don't contain any junky fillers like potatoes, peas, corn, soy, and carrageenan. This ensures a straightforward mealtime experience that goes down smoothly without upsetting sensitive tummies.  
Additional Dog Food Products
Pure Shreds for Dogs

: Shredded meat in a tasty broth

Minimal Ingredient Stew:

Single source of meat in a savory gravy

Slow Cooked Stews:

Home-style tender meat cuts in a savory gravy

Freeze-Dried Raw Toppers:

Ground freeze-dried raw meat that's perfect as food toppers

Freeze-Dried Raw Bites:

Bite-sized freeze-dried raw meat to be fed as a treat, topper, or a complete meal

Dehydrated Mixe

s: Superfood supplement to promote healthy digestion

Treats:

Tasty and nutritious single-ingredient dog treats
Pros:
One meat per recipe

Easy to digest

High protein content

No carb-heavy fillers

No preservatives or additives

New Zealand Green Mussels are in the recipes to support joint health
Cons: 
Currently only ships within the US 
2. Purina Pro Plan Veterinary Diets EN Gastroenteric
Purina Pro Plan Veterinary Diets EN Gastroenteric is a dry dog food that contains easy-to-digest ingredients including coconut oil or medium-chain triglyceride (MCT) vegetable oil, antioxidants, and prebiotic fiber. Purina also offers EN Gastroenteric® Low Fat Canine Formula, EN Gastroenteric® Fiber Balance Canine Formula, and EN Gastroenteric® Naturals™ Canine Formula With Added Vitamins, Minerals & Nutrients. 
Additional Dog Food Products: 
Pro Plan

Pro Plan Veterinary Diets

FortiFlora

Calming Care

Joint Care

Treats
Pros:
High digestibility for nutrient absorption

Includes a prebiotic fiber for a healthy GI tract

Created by Purina nutritionists, researchers, and veterinarian

Has both wet and dry foods
Cons: 
Requires a prescription to purchase

Can be quite expensive

May still contain too many ingredients

Can only purchase at a veterinary office or specialized online sites

 
3. Royal Canin Hypoallergenic
Royal Canin Digestive Care is formulated to be a highly digestible diet, specifically to help dogs with sensitive stomachs. This recipe includes chicken and pork as the primary proteins and has a loaf texture with sauce. It can be paired with Royal Canin Digestive Care dry dog food.
Additional Dog Food Products: 
Size-Specific (X-Small, Mini, Medium, Maxi, Giant) 

Breed-Specific (Labrador Retriever, Golden Retriever, German Shepherd, and more)

Health Nutrition (Hypoallergenic, Urinary Health, Weight Management, and more)

Lifestage Nutrition (Puppy, Adult, Mature/Senior)
Pros:
First five ingredients (excluding water) are animal protein-based

Wet food has a higher moisture content, which can be easier to digest

Contains essential vitamins and minerals
Cons: 
Limited variety in flavor or protein sources

Contains filler like wheat flour, beat pulp, and carob bean gum

Not a single-source protein

Can be expensive
4. Purina Pro Plan Veterinary Diets Hypoallergenic
Purina Pro Plan Veterinary Diets Hypoallergenic helps the dietary needs of dogs with IBS, sensitivities, or allergies with food that includes single hydrolyzed protein with a low molecular weight. The formulation also adds purified carbohydrate sources, omega-3 and -6 fatty acids, zinc, and a lipid energy source. 
Additional Dog Food Products:
Pro Plan

Pro Plan Veterinary Diets

FortiFlora

Calming Care

Joint Care

Treats
Pros: 
Single hydrolyzed protein to prevent allergies

Contains omega-3 fatty acids

Enhanced levels of vitamin A, zinc, and omega-3 and -6 fatty acids 
Cons: 
5. Wellness Core Natural Dry Dog Food
Wellness Core Natural Dry Dog Food maintains a grain-free, protein-rich formula. With a keen focus on holistic well-being, this kibble contains glucosamine and chondroitin for robust joints, optimal fat and calorie levels for balanced energy, and a blend of fiber and probiotics.
Additional Dog Food Products: 
By Product Types (dry food, wet food, mixers and toppers, snacks and treats, and supplements)

By Featured Brands (Complete Health, Core, Core Digestive Health, Core RawRev, Bowl Boosters)
Pros:
Contains chondroitin and glucosamine

Ample levels of fat and calories

Probiotics and fiber to promote digestive health

A variety of flavors offered
Cons: 
No single protein recipes

Contains fillers like ground potatoes and peas
6. Instinct Raw Boost Gut Health
Instinct Raw Boost Gut Health is a grain-free recipe that blends high-protein kibble with nourishing freeze-dried raw bites. It includes a blend of prebiotics and probiotics for your dog's gut microflora. Lastly, the formula is free from grains, potatoes, corn, wheat, soy, by-products, and artificial additives. 
Additional Dog Food Products:
Frozen Raw Meals

Freeze-Dried Raw Meals

Raw + Kibble

Raw Toppers

Raw Coated Kibble

Wet Food
Pros:
A mixture of high-protein kibble and freeze-dried raw food

Free from artificial flavors and preservatives

A blend of omegas, antioxidants, prebiotics, and probiotics
Cons: 
No single protein recipes

Contains some unnecessary ingredients like peas

Contains high calories, which can upset your dog's stomach

 
7. 
Acana Protein Rich Dry Dog Food
Acana Proteinrich Dry Dog Food is a dog food with 70% animal ingredients and a 30% blend of fruits and veggies. But it's not just about protein; prebiotics and fiber are woven into this formula to further support your dog's digestive health. 
Additional Dog Food Products: 
Lifestage (Puppy, Adult, Senior)

Special Diet (Limited Ingredients, Grain Free, Grain Inclusive, Small Breed, Large Breed)
Pros:
Digestible and nutrient-dense proteins

Free from grains, soy, corn, wheat, tapioca, and artificial additives

Includes prebiotics and fiber to support a healthy digestive system
Cons: 
No single protein recipes

Includes peas and other filler ingredients
8. NutriSource PureVita Grain Free
NutriSource PureVita Grain Free is a grain-free series with a limited ingredient approach. In addition to a single-source animal protein, it includes a balanced formula of Omega-3 and Omega-6 fatty acids and heart-healthy additions like L-carnitine, taurine, choline chloride, and DL-Methionine. 
Additional Dog Food Products: 
NutriSource Recipes

PureVita Recipes

Choice Recipes

Element Series

Toppers

Freeze-Dried

Treats
Pros:
Grain-free formula

Includes Omega-3 and Omega-6 fatty acids

Focuses on a single animal protein
Cons: 
Some recipes include fillers like potatoes and peas, that might cause digestive issues

Dry food recipe - wet food is typically easier to digest
9. Holistic Select Natural Dry Dog Food
Holistic Select Natural Dry Dog Food features a Digestive Health Support System formula that includes a blend of probiotics, fiber, and digestive enzymes. While made in the USA, this blend draws from globally sourced ingredients. 
Additional Dog Food Products:
Type (Wet, Dry)

Life Stage (Puppy, Adult, Senior)

Breed Size (Large and Giant Breed, Small and Mini Breed)

Special Formula (Grain Free, Potato Free, Weight Management)
Pros:
Includes prebiotics and live yogurt cultures

Contains omega fatty acids, antioxidants, glucosamine, and taurine
Cons: 
Meat is not the first ingredient in some flavors

Contains filler ingredients like rice, oatmeal, and beet pulp

Some additives might be overwhelming for a dog with IBS
More About Dog Food for IBS
Best non-prescription dog food for IBS
While it's important to get the right dog food for IBS, it can be challenging if the purchase requires a vet's prescription. Fortunately, there are some great non-prescription dog foods for IBS!
KOHA Dog Food is a problem solving brand known for its minimal ingredient, easily digestible formulas tailored specifically for canines with sensitive stomachs and dietary concerns. Each recipe focuses on a single meat source, eliminating unnecessary fillers like potatoes, peas, and artificial additives that can trigger digestive issues. 
For dogs with IBS, KOHA's approach offers a soothing dietary solution that addresses common triggers and sensitivities. Combined with its dedication to using high-quality ingredients, KOHA stands out as one of the best non-prescription dog foods for the management of IBS among our four-legged friends. 
What protein is good for dogs with IBS?
For our furry buddies with sensitive stomachs, it's not just about any protein; it's about finding the right fit. Often, dogs with IBS thrive on novel proteins—those they haven't been exposed to yet. Think beyond the usual chicken and beef; rabbit, duck, or even pork can be gentle on their digestive system. Limited ingredient diets, free from pesky allergens, also shine here. 
However, always remember that every pup is different; what works for one might not for another. A chat with your veterinarian can guide you to the best protein choice for your four-legged friend's tummy.  
Homemade Dog Food for IBS 
Homemade food can be a good option for dogs with IBS, especially since you can control the portions of each ingredient that go into your dog's diet. However, it can be time-consuming and hard to know if you're including all the right nutrients and minerals your pup needs. 
To support your dog's diet, the minimal and limited ingredient recipes of KOHA Dog Food are reminiscent of wholesome homemade meals. Designed with the sensitive canine gut in mind, its formulas emphasize a single meat source and exclude common irritants, mirroring the purity of a home-cooked dish–with all the work done for you!  
Is chicken okay for dogs with IBS?
Yes, a bland chicken and rice diet can be perfect for dogs suffering from IBS symptoms. 
If you're looking to introduce some other foods into your dog's diet, stick to dog food with limited ingredients (no sneaky additives or artificial preservatives), such as the KOHA Minimal Ingredient Chicken Stew for Dogs. Some chicken-based dog food may be mixed with other meats, so make sure to check the ingredient list carefully. 
If your pup doesn't respond well to chicken, then it may be time for a novel protein diet. We always recommend that you speak with your veterinarian to ensure you're feeding your pup only the best food for his stomach. 
Choose the Best Dog Food for IBS
The intestinal distress associated with IBS may be persistent but with proper management and diet, you can give your dog the life they deserve. 
Navigating the maze of dog food options for IBS can take some time, especially when you consider that each dog has their own food allergies and sensitivities. However, understanding the distinct needs of a sensitive stomach can guide you toward choices that prioritize clean proteins and minimal additives. 
KOHA Dog Food, inspired by a journey with a dog's digestive challenges, stands as a testament to the benefits of a minimal ingredient approach. If you're seeking a solution that resonates with the purity of a home-cooked meal, look no further. 
Discover the difference of KOHA Dog Food. Your dog deserves a meal that's both delicious and digestively pleasing!  
Choosing a selection results in a full page refresh.
Press the space key then arrow keys to make a selection.