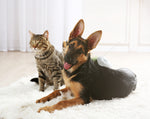 tips
Is Freeze-Dried Pet Food Right for your Dog or Cat?
As pet parents, we're always trying to find the best quality food for our furry family members. That's why freeze-dried dog and cat food has increased significantly in popularity in recent years. Many find that freeze-dried pet food meets all of the nutritional requirements their pets need, in a convenient to serve format. But is freeze-dried the right choice for your dog or cat? Keep reading to find out!

What is Freeze-Dried Pet Food?

Freeze-drying is a modern food preparation method in which raw meat is freeze-dried in a pressurized vacuum chamber at an extremely low temperature. This process extracts the moisture from the meat, while still retaining all of the nutrients and taste.

Freeze-dried food comes in a variety of forms, including as meals, treats, and toppers to help with picky eating. Each contain the same nutritional value, and can be a great addition to any dog or cat's diet.


What are the Benefits of Freeze-Dried Pet Food?
Feeding pets freeze-dried food has several benefits, which include:
Nutritional Value: Raw food is the purest form of nutrition for pets. Freeze-drying retains the quality of the meat's proteins, amino acids, enzymes, fats, probiotics, and other nutrients. It promotes healthy skin & coat, vitality, and optimal digestion.

Ease of Feeding/Convenience: A raw diet is a great way to feed, but it can be difficult to prepare. It requires freezing or refrigeration, as well as thawing and prep time. Freeze-dried offers the same raw nutrition but in a convenient, shelf stable meal, ready to serve. If you're looking for a softer texture, you can also rehydrate with water to add moisture. Freeze-dried pet food is a great option for those that are often on the go, or aren't able to access high quality raw meat. A freeze-dried topper can also be beneficial for those that serve wet food or dry food, to give an added nutritional boost without making a radical change to your pet's diet.

Shelf Life: Traditional raw food will last you a few days at most. Freeze-dried raw food, on the other hand, can last up to two years. This is because 90% of the moisture has been safely removed from the meat to prevent bacteria from growing. Freeze-dried lasts longer without a reduction in quality.

Is Freeze-Dried Right for my Pet?

Feeding freeze-dried raw food is a great option for many pets. You may find it to be the perfect match for your furry friend if any of the following applies:
Your pet is a picky eater
Your pet has digestive problems, or a sensitive stomach
You're looking for a more nutritious diet for your pet
You want to feed your pet a raw diet in a more convenient way
It's always important to consult with your trusted veterinarian before switching your pet's diet. Don't be afraid to ask questions and see if freeze-dried raw is the right choice for your pet.

Are All Freeze-Dried Pet Foods Made the Same?

As great as freeze-dried food can be, not all are created equal. Many manufacturers will still include filler ingredients in freeze-dried raw food, that are unnecessary and can be digestive irritants.
Here at KOHA, we follow a minimal ingredient philosophy: that means, we do not add a variety of additional ingredients, starches, or fillers. This makes our recipes highly digestible and the best choice for pets with food sensitivities We also include the added benefits of pre and probiotics to help the body absorb vitamins and minerals, and support digestive health.
Our Raw Life Freeze-Dried Bites and Toppers are 96% meat that is locally sourced here in the USA.
Our Freeze-Dried Raw Bites for Dogs have 3 great ways to feed: as a meal, topper, or as a treat! And for picky eaters, our Freeze-Dried Raw Topper for Dogs and Cats is easy to sprinkle on to make every meal irresistible.
Choosing a selection results in a full page refresh.
Press the space key then arrow keys to make a selection.